Media and
Development Forum
To follow live on July 11, 12 and 13 from 1:50 p.m. (Paris time –

UTC+2)
Use of artificial intelligence, combating disinformation, climate change, support for media outlets in exile: how can we be better informed in the future?
Together with its partners, AfricTivistes, AfricaCheck and Arab Reporters for Investigative Journalism (ARIJ), the Media and Development forum offers CFI's media partners from Africa, Asia, Europe and the Arab region an opportunity to debate, examine and discuss views on all these issues.
Three hundred journalists and information activists from 45 countries will come together in Paris on 11, 12 and 13 July 2023 for this unique opportunity to exchange ideas, during which they will share their practices, their solutions, the difficulties they encounter and the innovations they have made when faced with contemporary issues.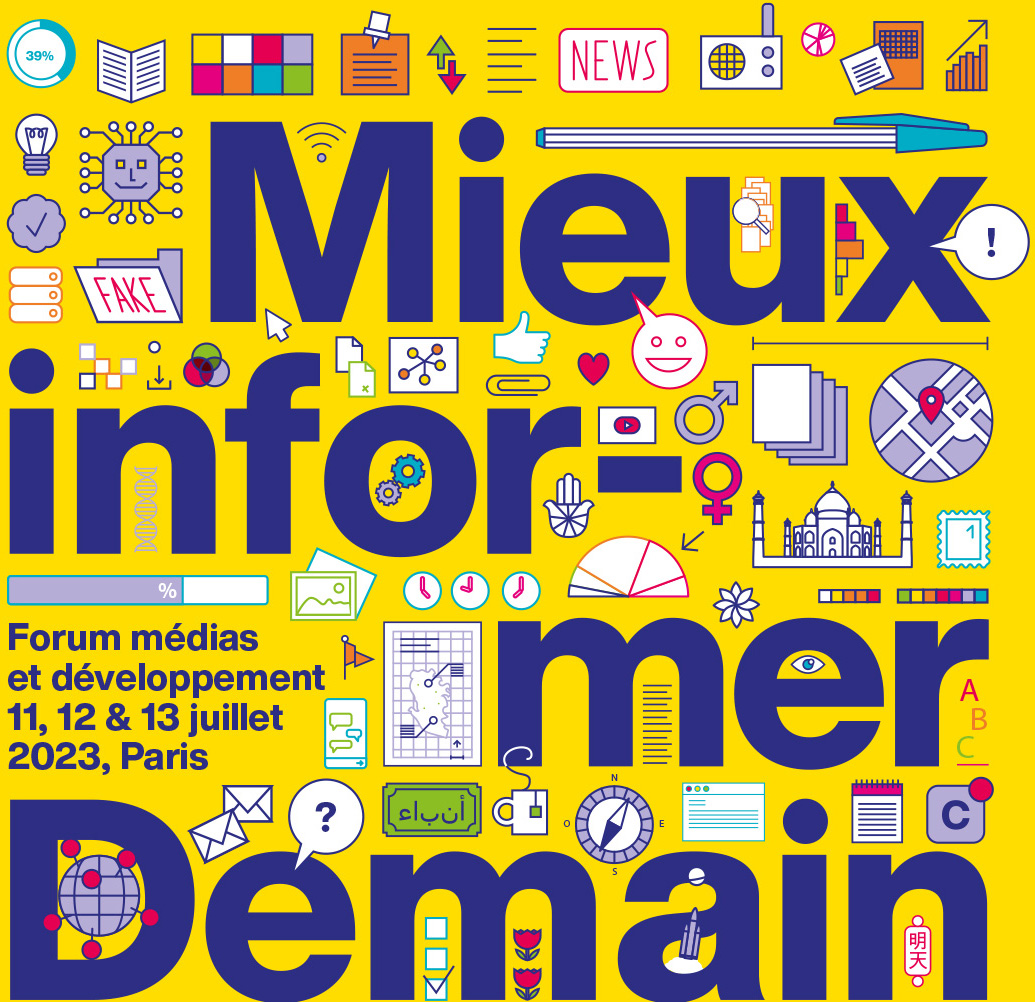 Journalists and information activists
Since 2011, Canal France International (CFI), a subsidiary of France Médias Monde (RFI, France24, Monte Carlo Doualiya), has been running a series of international forums (Montpellier, Tunis, Belgrade, Abidjan, Cairo, Nairobi, Tbilisi, Jakarta, Beirut, Paris) designed to connect media players and to enable them to share their experiences, which often involve working in difficult environments.
Its aims are to:
Encourage the sharing of innovations between journalists and media outlets from every country
Move from virtual to real meetings
Take a more in-depth look at the key themes of media development assistance
Deepen the key themes of media development assistance.
A SPECIAL SCHEME FOR FRANCE MÉDIAS MONDE
RFI's "Les dessous de l'infox" (The story behind disinformation) and "L'atelier des médias" (Media workshop) programmes are relocated for the duration of the forum. Monte Carlo Doualiya dispatches several journalists to follow the debates as closely as possible. possible. France24 covers the forum with a mobile team. team. As regards digital environments, France Médias Monde shares access to the event online via its websites.

AN INNOVATIVE SCHEME TO COVER THE FORUM
The agency is committed to helping international journalists who are unable to travel to Paris to attend the event. Digital coverage is provided in French, English and Arabic to offer the thousands of journalists and information activists who make up the CFI community the opportunity to attend conferences remotely, to take a peek behind the scenes and to interact on social networks.
The five conferences and the main workshops are broadcast live on www.forum.cfi.fr, as well as on social media.
Follow the hashtag #ForumCFI
A subsidiary of the France Médias Monde group, CFI actively promotes the development of the media in Africa, the Arab world and South East-Asia.